Improve your Reporting
Vision Reporting Services delivers enterprise, Web-enabled reporting functionality so you can create reports that draw content from a variety of data sources, publish reports in various formats, and centrally manage security and subscriptions.

Visually and functionally, the reports that you build in Reporting Services surpass traditional reporting by including interactive and Web-based features. Some examples of these features include drill-down reports that enable navigation through layers of data, direct export to Excel, Word, PDF, html, csv, and TIFF, custom schedules and subscriptions that automate reporting with email and network delivery, and secure, centralized access to reports over remote or local Web connections.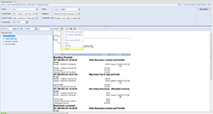 Export Options
Easily export to Word, Excel, PDF, and may more.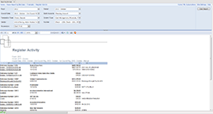 Drill Thru Technology
Access futher data on additional reports utilizing the hyperlinks built into the reports.
Reporting Services Features

· Interactive Sorting and Drill Thru capabilities
· Report Scheduling (Individual & Shared)
· Report Subscriptions
· Report Snapshots
· Linked Reports
· A fully Featured Custom Report Builder