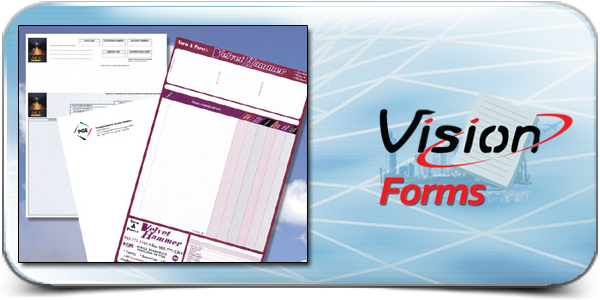 Bills, Notices, Checks
Cutsheet Products

Cutsheet products are one of the largest segments of the business forms and commercial web printing market.

Included in our cutsheet products, on a variety of stocks, are:
· Utility Billing Statements
· Invoices
· Checks
· Letterheads

In addition, Vision Forms produces cutsheet integrated items, cutsheet variable-imaged products, label/form cutsheets and jumbo-numbered, full color, bar coded cutsheet products.

For our customers with special needs, Vision Forms manufactures four-color process and up to 10 Pantone color business forms and commercial cutsheet web products.

Vision Forms will manufacture your high quality cutsheet products at low cost with expedient delivery schedules.
Checks and Secure Documents
The increasing sophistication of color copiers and relatively inexpensive laser printers and scanners has made forgeries or alterations of checks, gift certificates and other security documents more common. In a continuing effort to improve our anti-counterfeiting technologies, Vision Forms has expanded our list of available security features to include the latest advances in fraud deterrent techniques. By combining several of these features you will increase your chances of satisfying the law and deterring counterfeiting.

Security Features



· Void Pantographs
Show a visible image, such as the word "Void", when copied by most color copiers, to discourage copier fraud.
Wright's own tested Best pantos are recommended, but custom voids and other pantos such as FormsX are available.
· Warning Bands
State the location and the type of security features used. They are usually located in the top and/or bottom of the
border. It is usually a reverse text band.
· Padlock Icons
Standard banking industry symbols to identify the presence of standard security features. Sometimes they appears by
themselves, but usually there is a box on the back explaining in detail the security features used in the document.
· Microline Printing with identifier MP
Very fine type that will not copy accurately. It usually appears in the signature line or as part of the border. An MP logo is
placed close to microprinting to draw attention to it.
· Simulated Prismatic Printing
Blending two or more colors of ink into a single image challenges copiers to simulate the original.
· Custom Artificial Watermarks
Customer logos, the words "original document", etc., are printed in a step-and-repeat fashion in a special opaque ink.
These can be seen only when held at an angle or when rubbed with a coin.
· Security Screen Endorsement Backers
Very light screen with reversed image, it is difficult to hold the small dot when copying.
· Bleed-Through Consecutive and MICR Numbering
Magnetic or red arabic numbering that bleeds through the paper and can be seen from reverse side to insure original
documents.
· Guaranteed No Missing Numbers
Consecutive numbering, guaranteeing you no missing documents.
· Security Papers
There are many to choose from with various passive and active features.
· Thermochromatic Inks
Temperature sensitive inks that become transparent when exposed to heat and reappear when allowed to cool.
· Security Box
A box on the back explaining the various security features used.

Correct selection of ink is critical to the success of the void pantograph. These pantographs work best when used in conjunction with mixed colors. The black content in any ink color should be between 6% and 11%, so pastels or true pigments should be avoided. Here is our updated list of recommended ink colors:

· Reflex Blue
· PMS 315 Blue
· PMS 485 Red
· PMS 208 Burgundy
· PMS 349 Green
· PMS 335 Green

Click here to download a copy of the color chart.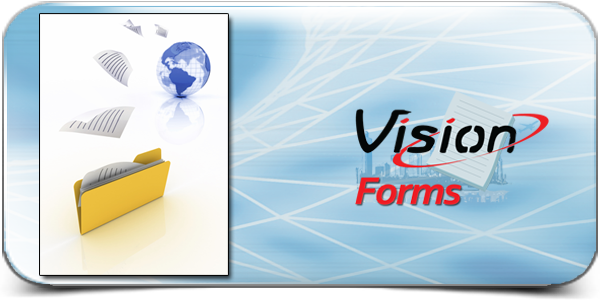 Utility Bill Outsourcing
Industry Value

Over the last decade outsourcing has been the number one cost-cutting tool used by businesses wanting to focus on marketing their products and services while eliminating costly overhead. Outsourcing the processing of variable imaging documents reduces costs for office space, staff, equipment and postage, and often enhances cash flow due to faster bill processing.

Vision Forms provides complete data processing, electronic variable laser imaging, folding, inserting and mail presorting services. We also manufacture the forms, warehouse them at no additional cost, then process and mail them, all under one roof so we can provide the most efficient method for sending your print media.

Process

1) Data Processing
· USPS CASS (coding accuracy support system) verifies and corrects addresses and allows for the printing of postnet barcodes
· Multi-page documents are coded so that the inserter can identify each page
· The data is formatted to the form
· The mailing is qualified for postal presort rates
· Various items are identified and coded for selective inserting
· Electronic confirmations are sent via email

2) Variable Imaging
· Xerox and Cannon cut sheet and OC continuous laser printers
· Formatted files are imaged on either pre-printed or electronically created forms

3) Enveloping
(Pitney-Bowes and Bell & Howell intelligent inserting machines)
· All pages are accumulated, folded, and inserted into window envelopes
· Additional items (i.e. return envelopes, stuffers, brochures, etc.) are also inserted
· Envelopes are sealed, metered and placed in mailing trays in postal presort order

4) Commingling
(Bell & Howell Jetstar 3000 MLOCR machine)
· Multiple jobs are commingled to ensure the lowest possible postal rates

5) Delivery to USPS
· All completed jobs are delivered to the main postal facility

Security of Information

The account data we process, manipulate, print and mail is handled with absolute confidentiality. We do not sell customer address lists, account numbers or any other information supplied by you or your customers. Document security is assured when you process through Vision Forms.